Commercial: Personal Injury Hotline Feat. Ahmad Ali
For Immediate Release:
Contact: Rick Eberle | www.rickeberle.com
516-­729-­6872 | rick [AT] rickeberleagency.com
Singer/Songwriter, Guitarist, and Radio Personality
Ahmad Ali
Brings His Eclectic Life In Music Full Circle
With Latest Double A Blues Band Release
"Standing on the Shoulders of the Blues"
From His Youthful Upbringing in Music to His Days with Premonition and WUSB's "Café Ali", His Wide Ranging Talents Come Full-Circle With Latest Double A Blues Band Release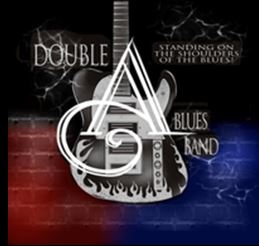 March, 2018 (Long Island, NY) – With the hard hitting electric feel of latest single "Riverhead" rounding out the gritty early Chicago Blues style of their 2018 LP "Standing on the Shoulders of the Blues" - Singer/Songwriter/Guitarist Ahmad Ali and his Double A Blues Band have brought a refreshingly nostalgic feeling back to the current blues scene. But for a jack-of-all trades personality, rockin' the blues isn't the only thing he's focused his efforts on in a wide-spanning music and entertainment career!
Raised in a diverse community on Long Island, N.Y. Ahmad was exposed to a wide variety of Soul and Jazz at home. The desire to play an instrument started young. He would put rubber bands on shoe boxes and try to make music, and as a child he would sing whatever was on the radio with the family. His Mom sang with choirs in her youth, and his Dad would play Drums with his Uncles, 'The Mitchell- Airs'. Both of Ali's Grandfathers were musicians, his Mother's Dad played keyboards, among other instruments, and his Father's Dad played valve trombone, but passed away at an early age (Poisoned by a jealous Woman).
WATCH: "Riverhead" Official Video by the Double A Blues Band
The family loved music, with some of Ahmad's fondest memories being that of seeing greats at the Apollo, and singing La La Means "I Love You" to his mother, as Eddie O-Jay played it on the radio. In middle School and Jr. High he sang with the school Chorus, but later as a teen his desire to play guitar was strong. He had to wait till he got a job to buy his first guitar, but months later his mom seeing his desire and commitment lead her to buy him an electric guitar. A year and a half later he was playing in night clubs with some of Long Island's top party bands. Music being music - he even played for local churches. As time moved on he continued performing, being featured on TV when Eyewitness News 7 in New York ran a story on a group he worked with, called "Premonition" about a con man who had ripped them off. They filmed the group and set them up with a recording session with legendary producer Don Kirschner at his Associated Studios in Manhattan, but as things didn't pan with that group he found himself working with a hand full of other rock bands.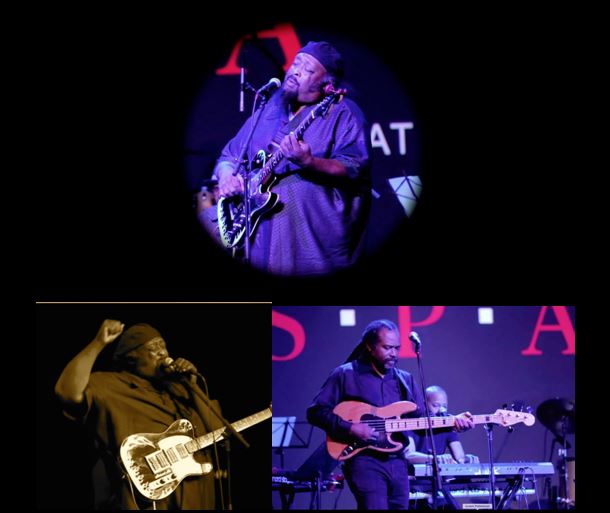 For Full List of Upcoming Double A Blues Band Shows, CLICK HERE

Following a ten year respite in his late twenties where he laid his guitar down and started a family, he ran into an old friend from Premonition, and began playing with the group again. Their rhythm section backed up all kinds of artist doing several styles of music from classic oldies Club music, Caribbean music, and more. This work led to more for Ali, like being tapped as stage manager for Protocol when they opened up for Will Downing at the Paramount theatre, meeting and working with Soul 4 Real as their musical director on their tour of London, Amsterdam, Bulawayo and Harare in Zimbabwe, and doubling as Road manager for their back up band- Blusyde. He even had the honor of playing on Soul 4 Real's album "Heat" when the opportunity to work in the award winning Perfect Pair Studios (adorned with gold and platinum plaques and Grammys from artist like Lauryn Hill, Biggie Smalls and many more) came calling. He also worked with the Blackwood Band and James Brown Impersonator "Black Velvet" (AKA Daptone recording artist, Charles Bradley), and has since been working with various local groups like The Gordon Hurley Big Band, Blues States, Jazz on the Half Shell, Island Jazz Express, Snap, The Ahmad Ali Trio, and more.
His love for Radio and community activism came to fruition in his work at WBAI 99.5 FM in NY and streaming at WBAI .org where he was heard for over 13 years, and you can now hear his show "Café Ali" on alternating Friday mornings on WUSB Stony Brook, 90.1fm and streaming at www.WUSB.fm. The Double A Band is His main Focus now. Bringing their sound to the world is the Mission!
For More on Ahmad Ali, VISIT: www.AhmadAliMusic.com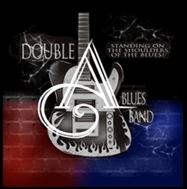 To Purchase the Double A Blues Band's "Standing on the Shoulders of the Blues" via CD Baby, VISIT: http://bit.ly/2oUZcQb
For Press Inquiries, CONTACT: Rick [AT] RickEberleAgency.com
---